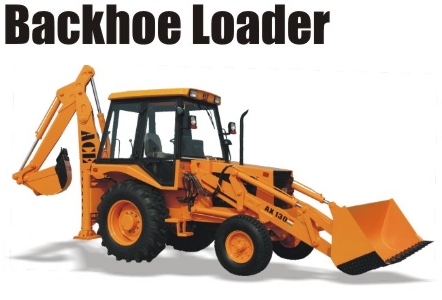 Backhoe loaders are very common and can be used for a wide variety of tasks: construction, small demolitions, light transportation of building materials, powering building equipment, digging holes/excavatin. Their relatively small frame and precise control make backhoe-loaders very useful and common in urban engineering projects such as construction and repairs in areas too small for larger equipment. Their versatility and compact size makes them one of the most popular urban construction vehicles. For larger projects, a tracked excavator is generally used.g, landscaping, breaking asphalt, and paving roads.

Our Backhoe loaders are manufactured in two models with bucket capacities of upto 1.00 Cu.M. Ace Model AX-130 is also fitted with backhoe bucket. These machines are used for loading, unloading digging & grading of earth and loose aggregates.

Fuel options available : Diesel.
Download technical specifications